1985 Christavia Mk1, N49635... $24,950
This two place plane has a lot of features and performance for the dollar. Designed to be a safe, rugged (+4.8, -2.8g) bush plane, it has STOL performance and goes 120 MPH. The cabin is a wide 30 inches. Compare the specifications with the Cessna 152 or the new $96,000 100 hp Champ.
Solo flight is from the front seat.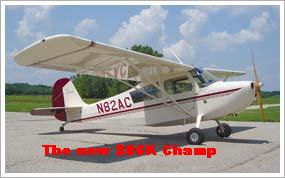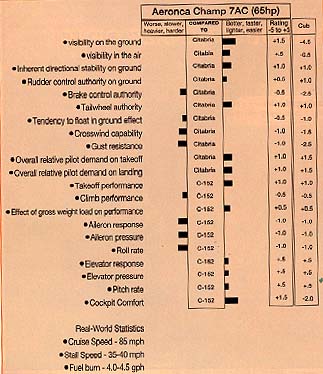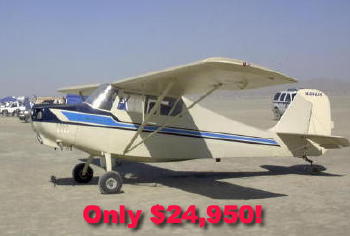 It flies like a Citabria, but with frise ailerons, gives a lighter touch. The required rudder input is less for coordinated flight. Handling is harmonious and delightful.
A large baggage compartment is located behind the rear seat. It has Cleveland hydraulic disk toe brakes, formed aluminum spring main gear (grooved for brake lines), Maule tail wheel and adjustable front seat. The two five point safety belts are from Pacific Scientific. The airframe total time is only 73 hours! The 708 SMOH Continental O-200 is equipped with a McCauley DCM6943 metal propeller, starter, new dry vacuum pump, quick oil drain valve, Brackett air filter, and new carb. The compressions are in the 70s. The plane is equipped with cabin heat, rotating beacon, nav lights, instrument lighting and landing light. It has always been hangared since the recover project was completed.
The plane was built by an experienced builder in TX and first flown in 1986. The fabric and one wing rib were hail damaged May 2003. It was flown to CA and inspected by an IA. It was repaired, photographed, recovered and painted May 2004 by me (also experienced). It is not an Oshkosh contender... the interior needs some attention... the carpet is stained and should be replaced. The door window is crazed and needs to be replaced (I have the plexiglas, but haven't gotten to it yet). The exterior is pretty good, but not excellent. I did an AOPA title search when I bought it... is clear of any liens or claims.
The PolyFiber (Stits) colors are Daytona White with Insignia Blue and Bahama Blue trim. Complete logs, paperwork and receipts since the beginning. This spiffy work horse is raring to go!.
Serial No. 58
Weights
Empty Wt. 981 lbs
Gross Wt. 1650 lbs
Fuel Capacity
21 Gallon Main Tank
7 Gallon Aux Tank
Speeds
Cruise 105 MPH
Top 120 MPH
Never Exceed 135 MPH
Stall 35 MPH
Measurements
Cabin Width 30"
Overall Length 20' 8"
Overall Height 7' 0"
Wingspan 32' 6"
Wing Area 146.25 sq ft
Performance
Rate of Climb 850 fpm
Take Off Roll 350 feet
Instrumentation
Magnetic Compass
Gyro Artificial Horizon
Gyro Turn and Bank
Gyro Directional Heading
Airspeed
Altimeter
Vertical Speed Indicator
Tachometer
Manifold Pressure Gauge
Cylinder Head Temperature (not connected)
Carb Temperature
Oil Pressure
Oil Temperature
Fuel Gauge
Ammeter
Aux Fuel Flow Indicator
Optional Avionics Package ($1,000 not including installation)
VAL Com 760 digital flip flop radio with tray and harness
Decibel Products NavCom Antenna
Narco AT50A Transponder with tray and harness
Narco UDA-3 Transponder antenna
Narco AR-500 Encoder with mount
Pointer Model 3000 ELT
Call Guy at (909) 214-1889