The Logical Way to Find the Right Airplane
Shopping for a used plane? Beat the yellowsheet blues! Stop juggling YR, TSMOH, TTAF, Avionics pkg, Interior and Exterior condition, Overhaul cost,... Our method uses a computer to provide a consistent, logical analysis of the market based on a simple interview of your needs and desires. The significant elements are distilled into a single figure of merit for each candidate. Other considerations can be included such as: Maintenance Expense, Distance from Buyer, Turbocharging, High or Low Wing, Insurance Expense, Damage History, Hangar History, Propeller Overhaul, Deicing, Used as a Trainer, Factory support, etc. Using this figure of merit, you can select from a much larger population of planes with the assurance that you are getting a much better buy than the old fashioned way. We provide a listing, much like the consumer magazines, that lets you easily make your choice. AirplaneBroker provides this unique and valuable service to clients... based on the understanding that many aircraft features are important, but to different levels to different individuals.
Where the color and paint quality may rank high with one buyer, it is of minor concern to another. The key: Understand what the buyer needs. Like the purchase of a home, the selection of a used airplane can be a difficult and complex matter. AirplaneBroker can assist you by doing any or all of the following: Locate, Qualify, Inspect, Negotiate and Deliver.
Phase I - Understanding the Requirements
A structured interview with the client provides the sought after features with their relative importance. Discussions continue throughout the process as both client and AirplaneBroker learn more. The screening tools are flexible and can be tuned to reflect the revised considerations. The entire procedure is interactive.
Phase II - The Roundup
A comprehensive search, using a wide variety of sources, is conducted for candidate aircraft with the required performance characteristics and budget limit. Specific data is obtained for each aircraft.
Phase III - Number Crunching
TSMOH divided by the TBO and multiplied by the overhaul cost determines the overhaul reserve cost. This is added to the asking price to obtain a 0-Time engine baseline price which is used to compare candidate aircraft fairly. Also, since many appraisal services use mid-time engines for comparison, one half of the overhaul cost is subtracted from the 0-time engine baseline cost for comparison purposes. Additional data such as age, airframe total time, exterior and interior condition, and avionics are combined in the computer according to the client's requirements. All candidate aircraft receive a final figure of merit, which identifies the finalists. A spreadsheet is made and sent via email.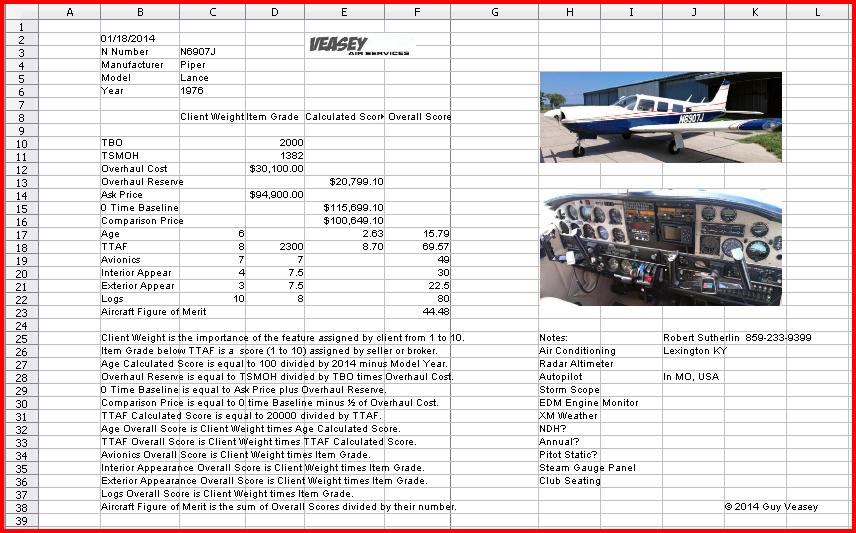 Phase IV - The Pilot's Judgment
The finalists are inspected and flown. A pre-sale agreement is drafted and a pre-purchase inspection by an expert in that make and model is arranged. This can be handled by AirplaneBroker or client. In fact, the client is always in control because the fee ($100.00/hr) is paid as progress payments. The philosopy of AirplaneBroker (like all good consultants) is to self destruct as soon as the client decides he can go it alone.
Other Considerations
The logs are important, as they show AD compliance and damage/maintenance history. Equipment for icing is important if the airplane will be subjected to those conditions. The usage history of the aircraft (was it a trainer?) must also be considered. Where the airplane was kept is also a consideration (near the ocean, tied down?).
Each prospective owner should define his own requirements and preferences, which are probably unique. Emotional appeal must be considered. In the end, every airplane is a compromise. The process above provides the highest level of confidence that the best airplane is selected. Understanding the client through frequent communications, I apply the same care and diligence in recommending a purchase as I would in buying my own airplane.
Probe the internet... Harass the dealers... Attend the auctions... Scour the rags... Cajole the owners. AirplaneBroker is your private detective. I do what it takes to find your plane. Make your airplane purchase as simple as A... B... C... AirplaneBroker.Com!
---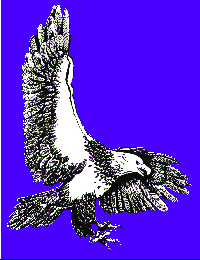 Options for selling your aircraft
As an aircraft owner you have three basic options when you choose to sell your airplane. You can:
Aircraft Broker: A broker is an entity that brings a buyer and seller together to sell an aircraft the broker does not own for a commission.
Aircraft Dealer: A dealer buys aircraft for inventory for resale. Dealers typically will offer wholesale prices for aircraft.
Advantages: Selling the aircraft yourself seems very attractive because you control the deal and you keep all of the money.
Disadvantages: You would not sell it yourself for the same reason you would not want to trust it to an inexperienced person to sell it. You want results, not expensive lessons to learn how to do something you may only do once or twice in your life. If you are financially stable enough to own an aircraft, your time is valuable.
Here are a few examples we have heard from owners who have tried to sell their own aircraft:
As a favor to one buyer, the seller let him fly the aircraft before completing payment. There was nothing in writing and the prospective buyer had a "Gear Up". Guess what? He walked away from the deal.
A long demonstration trip was flown that resulted in no sale and the seller was left holding the bag for all expenses.
An unscrupulous buyer convinced the seller to bring the airplane for a prebuy to his location. The aircraft was inspected and rejected; however, the seller was faced with the mainenance bill. The owner did not get a deposit and was not reimbursed even for his fuel and pilot expenses.
There are also important factors to consider involving the proper handling of Paperwork, Sales Tax, issues, lien releases, change of title transfer, and contracts that can limit a seller's future legal liability.
Another negative is the time, distraction, and hassle factor of fielding the calls, separating the time wasters from the real prospects, sending out photos, specifications, brochures, showing and professionally demonstrating the airplane, making sure it is clean, and following up with the real prospective buyers in a timely manner. These tasks all have to be done and can rob your time from the business that earned you the kind of money required to own and operate an aircraft. You will probably come out far ahead by concentrating on what you do best and letting a professional who is experienced handle the transaction for you.
Conclusion: You might save money selling the aircraft yourself, and there may also be extra risks, but the real question to answer is, Will the money I might save selling this one aircraft earn more money than I can make doing what I do best, running my own business?
A unique Help-U-Sell plan:
A big, extensive ad containing full specifications and many large photos is hosted as a dedicated website. Small teaser ads with a link to the BIG AD are placed in traditional sources, such as Trade-A-Plane, eBay, Barnstormers, Controller, Craigs List, AeroTrader, and other internet sites. Composition and hosting of the BIG AD is $200 for up to a year. (See example at AirplaneBroker.Com/Bonanza).
Advantages: Time is the major advantage of this option.


Disadvantages: Your will generally net 20-30% less for the airplane than you could get by selling the airplane yourself or through a broker.
Conclusion: If you want your money now, without the hassle of going through the selling process this could be a good option to consider.
Advantages: This option is a reasonable compromise between selling the aircraft yourself and selling it to a dealer. In most cases a quality broker can sell the airplane much faster than an owner. You and the broker have the same interest. The broker makes a commission when your aircraft is sold. The higher the price the higher the commission. A broker wants to sell your airplane as soon as possible because he doesn't get paid until the aircraft is sold.
A quality broker is a marketing expert you trust to act in your best interest. He will report to you regularly. He is like a staff member that works on straight commission, without a salary, without benefits, and doesn't mind that he will be laid off when the airplane sells. You have the benefit of years of experience working for you, experience you couldn't hire in any other manner for so short a time period.
Disadvantages: You could commit your airplane to a group or an individual only to see nothing get done. The broker ties up your valuable asset and then moves on to other business while waiting for someone to walk in and make an offer on an airplane you want sold. Things could be worse. Some prospects for an airplane may have already had unsatisfactory dealings with a particular broker. The wrong broker can do some troublesome things like misrepresent the aircraft, improperly handle offers, or waste time and money on unnecessary demonstration flights.
Conclusion: A quality broker can be your best option for getting the most money for your airplane with the least amount of risk and trouble.
Percent of Sales done with a Broker
Experience: Guy Veasey has more than 35 years in the aircraft business.
Fees:My minimum brokerage fee is $4,200.

| | | |
| --- | --- | --- |
| Aircraft Sale Price | Aircraft at KHMT | Aircraft at Remote Location |
| $1 to $60,000 | $4,200 | $4,800 |
| $60,000 - $100,000 | $4,200 +6% > $60,000 | $4,800 +7% > $60,000 |
| $100,000 - $150,000 | $6,600 +5% > $100,000 | $7,600 +6% > $100,000 |
| $150,000 - $250,000 | $9,100 +4% > $150,000 | $10,600 +5% > $150,000 |
| Over $250,000 | $13,100 +3% > $250,000 | $15,600 +4% > $250,000 |
AirplaneBroker.Com